Robotics Story from March 10 at the 2012 Autodesk Oregon Regional Competition
Written by: Jason Vilaysanh
Sitting in the cheering crowd, anticipation flows through my body; the FRC Team 2811 Skyview Stormbot 4, affectionately nicknamed the "Linfiltrator 2811" after the basketball player Jeremy Lin, was about to compete. Amongst the rest of the audience at the 2012 Autodesk Oregon Regional, I cry out in excitement and joy. It would be our time to shine: we would show everyone what the outcome of our hard work would be. Our robot sits still before the match starts. Tension fills my body. Autonomous mode is over, and our robot remains still, as planned. The match starts, and our robot is motionless.
Connor, one of the robot drivers, was definitely surprised. The robot didn't move the entire match, and our rankings would clearly suffer because of it.
"I was scared," Connor said, "During the entire match, I was in great psychological pain."
The problem with the robot couldn't be diagnosed at first. Both Aric and Mike felt the same way about our robot's lack of mobility: frustrated.
"All I could think when it happened was: 'come on, why do you have to stop working now?'" Connor said.
However, instead of throwing in the towel and calling it quits, the team went into overdrive to root out the source of the robot's problem. That called for tons of hustling, analyzing, and intense work. It was later determined that some loose wires and a fired motor controller would be the cause of our robot's paralysis.
"Once we figured out what was wrong with the robot, I was relieved," Mike said. "It didn't defeat us. In a way, it gave us strength."
Perhaps the robot malfunction was more useful than having it operating perfectly the entire time. It showed the team exactly what perseverance and determination could do. In spectacular 2811 style, we not only constructed a robot, but we discovered skills for our future. We learned how powerful willpower is.
"The team worked so hard on fixing up the robot. I'm proud to be a part of this team" Connor said with a grin.
Fixing the failing robot was just the start, improving the robot is our next step. Jeff reveals that the newly fixed robot might be getting quite a few upgrades before our next competition in Seattle.
"With some reprogramming and rewriting, we'll eventually get it to do everything we planned it to do, like autonomous mode." Jeff said. "The whole team works hard, and we'll keep on working hard to improve our robot."
---
Portland and seattle regionals Preparations
We decided to build two robots this year for the Seattle and Portland regionals. That way, when it's time to bag and tag the robot, we can continue working on the twin, looking for other problems to tweak. We made a shooter mechanism that is unique because it utilizes a rotating wheel to propel the ball ferociously but accurately. Our team also decided to program our robot to score points in autonomous mode, meaning the robot can score by itself. The programming side of our team is hard at work getting that part figured out. Our Robot also has 8 small wheels on the chassis and an omni-directional shooter mechanism on top of the robot.

---
BunnyBot
20 teams attended this year's BunnyBot. Of those 20 teams, our Skyview robotics team took 11th Place in the final standings. Many of the team members who participated either worked on the robot (build team), asked other teams how they raise money (marketing team), and/or drove the robot (drive team). Our drivers were Misha, Kelson, Connor, and Thomas. At BunnyBot each team was pared up with another team. The stronger teams would get pared up with the weaker teams so that the competitors were evenly matched. Each team got to compete about 5 times (some teams would play more or less depending on how much problems their robot encountered). A few teams had two robots. And Catlin Gabel had three Robotics teams! Even though we didn't make it to the finals we tried our best and came home a little wiser than we were before.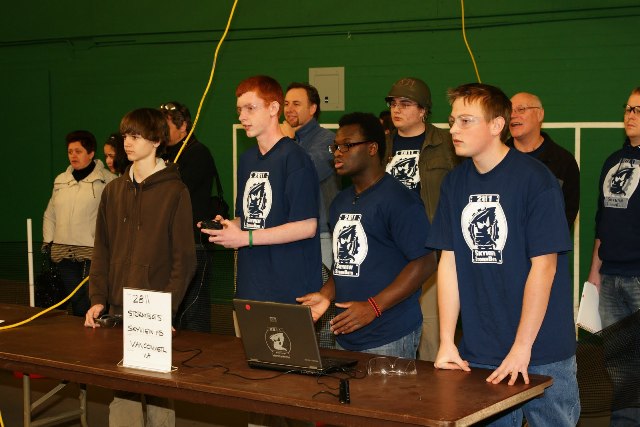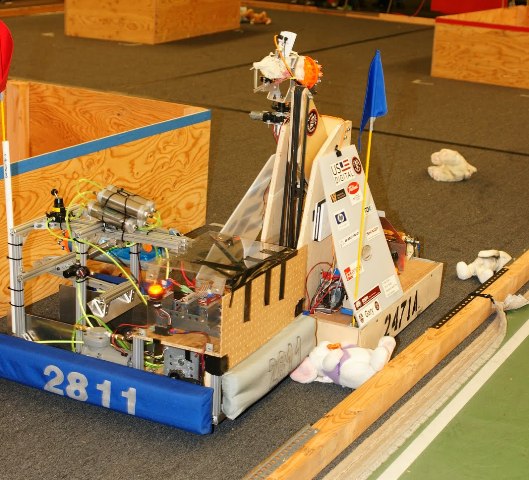 Our Drivers The Bunnies
---
Stormbots Volunteer at the Intel Oregon FIRST LEGO League Tournament
Over 300 students between the ages of 9 and 14 participated in the FLL Robotics tournament at Salmon Creek Elementary. December 3 - 4. Skyview stormbots helped organize and judge the competition involving Lego robots from over 40 teams. The team demonstrated its 2011 competition robot to inspire the younger students.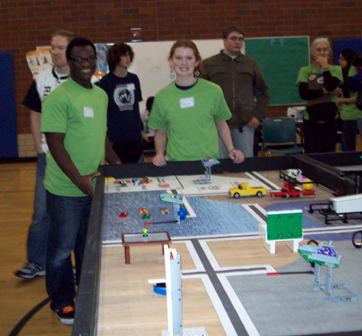 ---
Girls Generation Oct. 29, 2011
StormBots Dominate at Girls Generation
Skyview robotics team girls--Leslie, Becca, Madeline, Lauren, Zoey, and Hsuan-Ting—took the team's competition robot from last season to Catlin Gable School on October 29 for the 2nd Annual girls-only "Girls Generation Robotics Competition." This competition hopes to inspire girls to take advantage of the opportunities through FIRST Robotics to get "hands-on" experience with technology. It gives them a slight "leg up" over their often more domineering male counterparts, and a chance to witness the fun of engineering for themselves. Girls generation is a competition in which girls get to go work on the robot and drive it in a competition exactly like last year's competition but in an all girls environment.
Our team of girls worked hard and captured first place with their alliance partner. "We improved a lot from last year and especially in communicating skills" said Becca, a Sophomore, second year team member and the team's Safety Captain. The girls liked fixing and driving the robot, interacting with other teams and helping rookies. Our girls also learned a lot about the competition, and how easily the robots can break—and how to fix them. When the girls were asked how big a role they thought that girls play in a robotics team they said that they don't play a huge role, but they're becoming more important.
The whole team—40 students this year!-- is gearing up for the winter pre-season event, Bunny Bot (where stuffed animals meet robots), to be held Saturday, December 17 at Catlin Gable School in Portland. Last year the team took second place and is looking for an improved showing with its new design this year. On January 7, 2012 our official season starts, and we will have six weeks to design and build our robot for the 2012 FIRST world competition.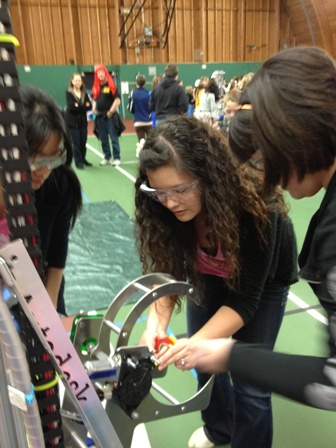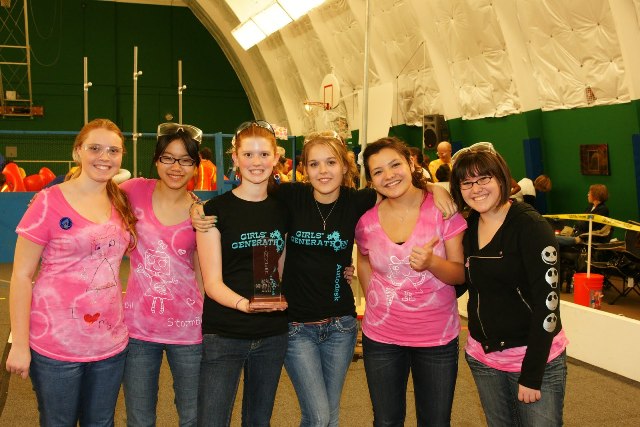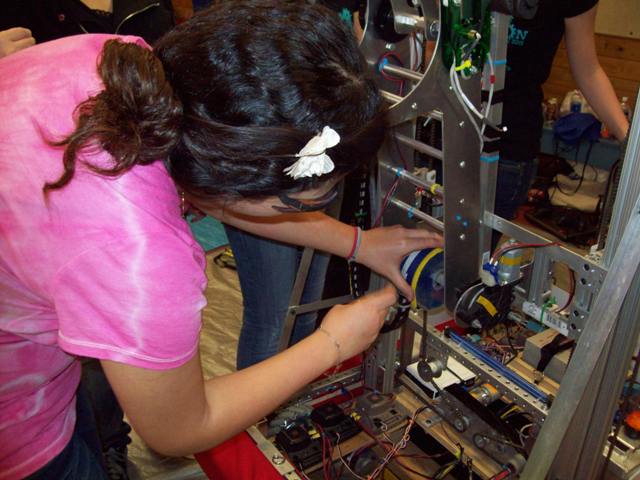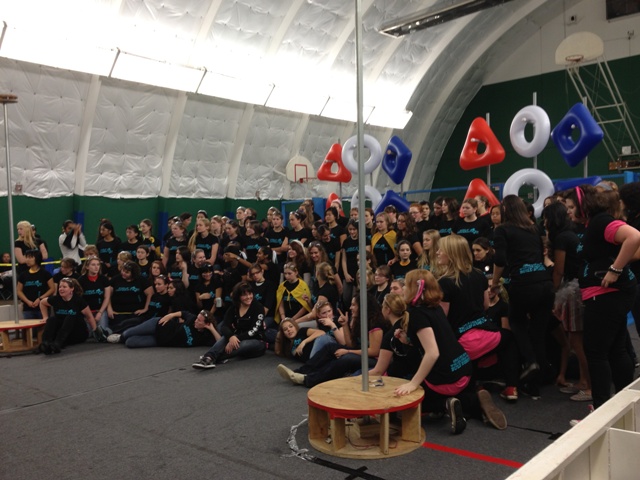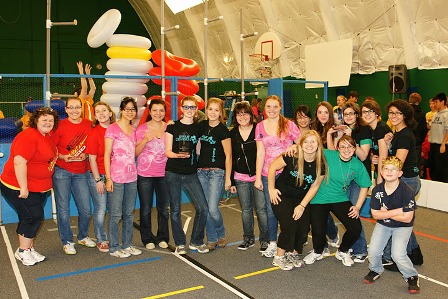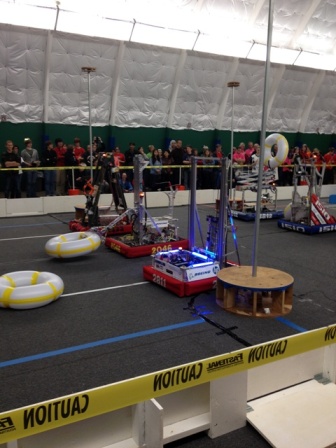 ---
FIRST fair Oct. 15, 2011
Flaming Chickens host the annual FIRST fair at Catlin Gabel
Members of Skyview Stormbots traveled to the FIRST fair at Catlin Gabel to attend seminars and prepare the rookies for the upcoming Bunnybot competition.
The Flaming Chickens are a robotics team that host an event annually in which robotics team members can attend explanatory seminars on different aspects of the FIRST FRC robotics program at Catlin Gabel. I decided to see what all the buzz was about, and while I was there, I found that the presentations gave plenty of information explaining what the sub-teams of robotics teams do during the season. I learned that in the marketing team, there are multiple responsibilities which fall solely upon the marketing team. One of the major objectives of the marketing team is raising money. The team is required to raise it's own money for the robot as well as the entry fees (which cost roughly $5,000). I also attended a presentation about the chairman's award. The chairman's award is given based on a vital presentation that every team is required to give. The m that wins gets to compete in the world championships, regardless of their regional competition standings. The event was fun, and I can't wait for the season to gain momentum.
- Connor B.